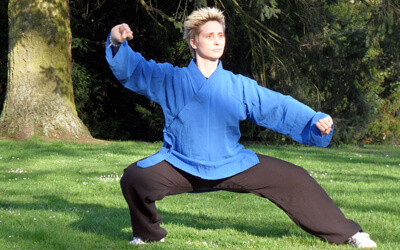 Awakening to martial arts
The AKFSD, in partnership with Bien-être-et-Sport Suisse, offers a body awakening course through Chinese Martial Arts for 5-6 year olds and 7-8 years old every Wednesday between 3pm and 4:30pm.
Do not hesitate to contact Florence to ask any questions you may have.
Registration / contact by e-mail : info@kungfudivonne.fr
Yoga workshops


Magali invites children to come and discover yoga and its benefits every Tuesday from 4to 4:45 pm! 
Yoga and mindfulness instructor (RYT 200) accredited by the Yoga Alliance, she brings imagination and creativity to her classes by using story telling. She is also certified by International Montessori Association (AMI) from birth to 6 years old.
Courses take place in our 3-6 classroom  and you can decide to enroll them for 10 or 15 classes. Minimum 4 children per group. Come and join Magali's fun kids yoga class!
Creative workshops
Jessica offers workshops allowing children to create, experiment and explore in a playful way every Thursday between 4.30pm and 5.30pm.
There are 3 main themes during these workshops :
Introduction to Art
Ecolo-Bricolo-Rigolo
Arts & Crafts
The workshops take place on our premises and you can choose to enrol your child for the year (25 chf / workshop) or for the term (28 chf / workshop).
Minimum 5 children – Maximum 8 children per workshop.
We offer to take care of your children at the daycare until the time of the workshop if necessary and we will accompany them to the workshop.