Maria Montessori (1870 Italy – 1952 Netherlands) is a committed avant-garde personality.
She became one of the first women doctors in Italy, trained in psychiatry and anthropology and became one of the greatest pedagogues the world has ever known.
Maria Montessori soon developed a passion for the condition of children. She dedicated her life to the study of children from very different social and cultural backgrounds.
By proposing a pedagogy in harmony with the development needs of the child, she opened this new vision :
Education for peace !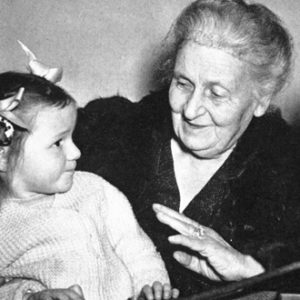 Why register your child in a Montessori crèche ?
Why choose a Montessori school for your child from the age of 3 ?
Links and resources on education according to Maria Montessori
Maria Montessori's work
Books
Faull, Jan; It's me who decides or how to get out of power relationships with children 2 to 10 years old; 2012
Juul, Jesper; The Art of Saying No – with a Clear Conscience; 2012
Palmer, Sue ; Detoxing Childhood : what parents need to know to raise bright, balanced children ; Orion ; 2008
Standing, M.-E.; Maria Montessori, her life, her work; 1st ed. 1957
Videos and audios
Websites